Michel Béjot
Associé fondateur
Avocat au barreau de Paris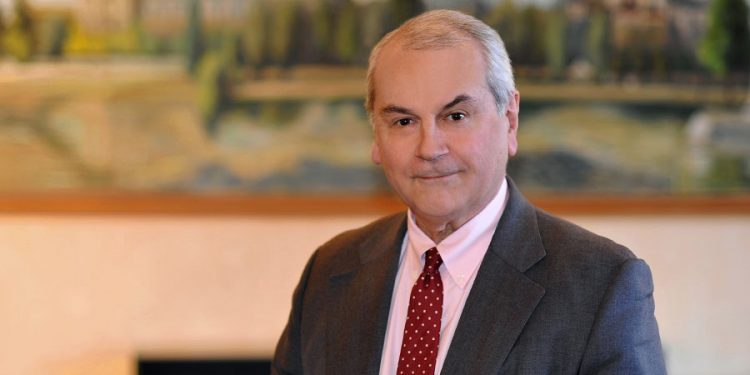 Cabinet d'avocats Paris
2 rue de Logelbach
75017 Paris
Michel Béjot est l'un des associés fondateurs du Cabinet. Sa carrière a débuté dans le bureau new yorkais du cabinet Cleary Gottlieb puis dans le bureau parisien du cabinet Siméon Moquet Borde & Associés.
Fort d'une formation internationale (Max-Planck-Institut de Hambourg, Université de New York), il assiste et représente les clients notamment lors de leurs opérations d'investissements, français à l'étranger et étrangers en France, de fusions-acquisitions (par exemple un investissement de 3 milliards d'Euros, par un fonds d'investissement étranger, pour une participation dans un grand groupe d'énergie français).
Michel Béjot dispose d'une expérience notable dans les contentieux internationaux (propriété intellectuelle, droit de la publicité, droit de la distribution) et a acquis une compétence reconnue en droit des technologies de l'information et de l'internet, dès l'apparition de cette technologie en France, notamment lorsqu'il a assisté certains opérateurs majeurs lors de leur arrivée sur le marché européen.
Il intervient (conseil et contentieux) pour des entreprises françaises et des grands groupes internationaux ayant des intérêts en France, dans les domaines d'activité très variés, comme par exemple l'énergie, l'industrie agro-alimentaire, les produits de grande consommation, les opérateurs telecom…
Il est l'un des membres fondateurs de l'organisation internationale devenue aujourd'hui la Global Advertising Lawyer Alliance (GALA). Par ailleurs, il est membre de l'International Trademark Association (INTA – membre du Comité Right of Publiciy), de l'International Technology Law Association (ITechLaw), de l'Autorité de Régulation Professionnelle de la Publicité (ARPP) et du Conseil d'administration de la European-American Chamber of Commerce (EACC).
Michel Béjot participe régulièrement, comme intervenant, à des conférences, en France et à l'étranger, sur des questions comme le droit des affaires, le droit de la publicité et de la communication. Il a rédigé de nombreux articles dans ses domaines de compétence, a contribué à des publications et est le co-auteur de l'ouvrage « Doing Business in France » (Matthew Bender) qui couvre l'ensemble du droit des affaires français.
Michel Béjot est notamment nommé, dans le Guide Décideurs 2017-2018, dans les domaines suivants :
Contentieux financier, bancaire et haut de bilan : « Pratique réputée»,
Droit de la distribution & Pratiques restrictives : « Pratique réputée»
dans le Guide WTR 1000 – The World's Leading Trademark Professionals 2018 – parmi les experts recommandés dans le domaine du contentieux de marques, et dans le Who's Who Legal 2018, dans les domaines des technologies de l'information et des données personnelles.
Docteur en droit (Université de Dijon)
Centre d'Administration des Entreprise, (Dijon)
Max-Planck-Institut (Hamburg)
M.C.J (New York University Law School)
Admis au Barreau de Paris en 1978
Langue : français, anglais et allemand
Advertising & Marketing 2021 (Chapitre « France », co-auteur), Edition Getting the Deal Through Mars 2021
« Ambush Marketing » (Chapitre « France », co-auteur), Edition Global Advertising Lawyers Alliance (GALA) 2020
« Privacy Law : A Global Perspective on Data Protection Relating to Advertising and Marketing » (Chapitre « France », co-auteur), Edition Global Advertising Lawyers Alliance (GALA) en collaboration avec the International Advertising Association (IAA) – (2020).
The AVIA LAW – The wisdom and pragmatism of the French Constitutional Court – Juin 2020
Advertising & Marketing 2020 (Chapitre « France », co-auteur), Edition Getting the Deal Through Mai 2020
Advertising & Marketing 2019 (Chapitre « France », co-auteur), Edition Getting the Deal Through Mai 2019
International Trademark Association (INTA – Chapitre « France », co-auteur), Trademark Cancellations Mai 2018
« Social Media » (Chapitre « France », co-auteur), Edition Global Advertising Lawyers Alliance (GALA) 2018
« Claim Against an Ad Broadcast on a Website Accessible in France but not Targeting the French Audience: Do French Courts have Jurisdiction? » (co-auteur), Edition Global Advertising Lawyers Alliance (GALA), Gazette News Décembre 2017 
« Retouched Commercial Photographs of Models: How will France Impose Transparency to try & fight Food Disorders? » (co-auteur), Edition Global Advertising Lawyers Alliance (GALA), Gazette News Août 2017
« Advertising Space Brokerage, Digital Ads and Transparency to the Benefit of the Advertiser: Whats New in France? » (co-auteur), Edition Global Advertising Lawyers Alliance (GALA), Gazette News Mai 2017
« E-sport/video Games Tournaments in France: Let's Play under a Specific Legal Framework! » (co-auteur), Edition Global Advertising Lawyers Alliance (GALA), Gazette News Février 2017 
« Sweepstakes & Contests » (Chapitre « France », co-auteur), Edition Global Advertising Lawyers Alliance (GALA) 2017
« Prohibition Of Advertising For Tobacco Products Vs. Freedom Of Speech: The French Supreme Court Decided To Have The First Prevail Over The Second » (co-auteur), Edition Global Advertising Lawyers Alliance (GALA), Gazette News Juillet 2016
« Facebook vs. The French Data Protection Agency: A Formal Notice To Have Facebook Comply With The French Data Protection Act » (co-auteur), Edition Global Advertising Lawyers Alliance (GALA), Gazette News Mai 2016
« Cancellation Guide » (Chapitre « France », co-auteur), International Trademark Association (INTA) 2016
« Advertising for alcoholic beverages still a hot topic in France (…Continued) », Edition Global Advertising Lawyers Alliance (GALA), Gazette News Septembre 2015
« Advertising for alcoholic beverages: Still a hot topic in France », Edition Global Advertising Lawyers Alliance (GALA), Gazette News Juillet 2015 
« Price reductions in France: What's new? », Edition Global Advertising Lawyers Alliance (GALA), Gazette News Mai 2015
« Advertising Law : a Global Legal Perspective » (Chapitre « France », co-auteur), Edition Global Advertising Lawyers Alliance (GALA) 2015
« Commentaries on the Community Trade Mark Regulation and the Community Design Regulation in the English Language » (co-auteur), Edition C.H. Beck Hart Nomos 2015
« How to ensure the protection of young consumer in a new digital World ? A European perspective » (co-auteur), Edition Emerald Group Publishing Limited 2013
« Promotion Marketing and Advertising Book » (Chapitre « France », co-auteur), Brand Activation Association (BAA) 2009
« Advertising to Children in France », International Journal of Advertising & Marketing to Children Avril-Juin 2004
« Trademark Law & the Internet » co-auteur INTA 1999-2000-2001-2003
« Einige Elemente der konzernrechtlichen Sonderregeln in Frankreich », Max Planck Institut Symposium 1990
« Doing Business in France » co-auteur Matthew Bender 1983
« La Protection des Actionnaires Externes dans les Groupes de Sociétés en France et en Allemagne », Ets. Bruylant 1976