Michel Béjot
Founding partner
Lawyer at the Paris Bar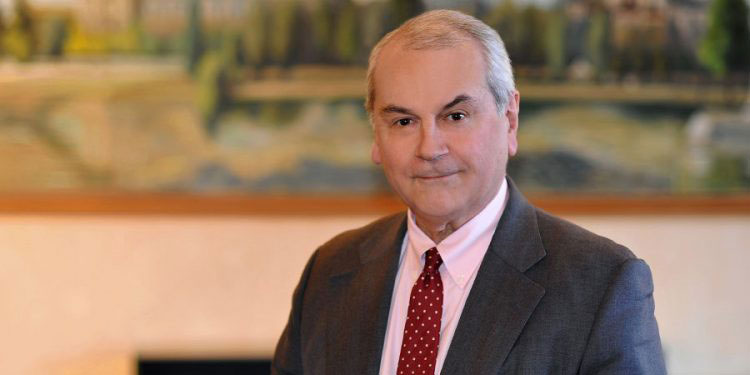 Business law firm in Paris
2 rue de Logelbach
75017 Paris
Michel Béjot started in New York with Cleary Gottlieb Steen & Hamilton and continued in Paris with Siméon Moquet Borde & Associés.
Armed with international training (Max-Planck-Institut in Hamburg, New York University), he advises and represents clients with their investment projects (foreign investments in France, as well as French investments abroad), their mergers and acquisitions (e.g., a 3 billion Euro investment by a foreign fund for an equity interest in one of the major French energy companies).
Michel Béjot has substantial experience in international litigations (intellectual property, advertising, media, distribution and agency) and has developed a robust practice in matters concerning information technology and the internet, starting at the outset of that technology in France by assisting some of the major access and content providers with their inception on the European market.
He represents French enterprises as well as large international groups of companies doing business in France, in both contentious and non contentious matters relating to a variety of activities such as energy, food products, consumer goods, telecom services.
Michel Béjot is one of the founding members of the international organization now known as the Global Advertising Lawyers Alliance (GALA). He is also a member of the International Trademark Association, (INTA – member of the committee Right of Publicity), of the International Technology Law Association (ITechLaw), of the Autorité de Régulation Professionnelle de la Publicité (ARPP) and of the Board of directors of the European American Chamber of Commerce (EACC).
He participates regularly, as a speaker, in conferences in France and abroad on topics related to business law, advertising and media law. He published numerous articles in his areas of specialization, contributed to a number of publications and is one of the two co-authors of the set of books "Doing Business in France" which covers the entire field of French business law.
Michel Béjot is named, in the Guide Décideurs 2017-2018, in the following areas:
Financial and banking litigation,
Distribution Law & Restrictive Practices
in the WTR 1000 Guide – The World's Leading Trademark Professionals 2018 – among the experts recommended in the field of trademark litigation, and in the Who's Who Legal 2018, in the fields of information technology and personal data.
Doctorat en droit (Phd – Université de Dijon)
Business administration degree (Centre d'Administration des Entreprise – Dijon)
Max-Planck-Institut (Hamburg)
M.C.J (New York University Law School)
Admitted to the Paris bar in 1978
Languages : French, English and German
Advertising & Marketing 2021 (Chapter « France », co-author), Edition Getting the Deal Through March 2021
"Ambush Marketing » (Chapter « France », co-author), Edition Global Advertising Lawyers Alliance (GALA) 2020
"Privacy Law : A Global Perspective on Data Protection Relating to Advertising and Marketing » (Chapter « France », co-author), Edition Global Advertising Lawyers Alliance (GALA) in collaboration with the International Advertising Association (IAA) – (2020).
The AVIA LAW – The wisdom and pragmatism of the French Constitutional Court – Juin 2020
Advertising & Marketing 2020 (Chapter « France », co-author), Edition Getting the Deal Through May 2020
Advertising & Marketing 2019 (Chapter « France », co-author), Edition Getting the Deal Through May 2019
International Trademark Association (INTA – Chapter « France », co-author), Trademark Cancellations May 2018
"Social Media" (Chapter « France », co-author), Edition Global Advertising Lawyers Alliance (GALA) 2018
"Claim Against an Ad Broadcast on a Website Accessible in France but not Targeting the French Audience: Do French Courts have Jurisdiction ?" (co-author), Edition Global Advertising Lawyers Alliance (GALA), Gazette News December 2017 
"Retouched Commercial Photographs of Models: How will France Impose Transparency to try & fight Food Disorders?" (co-author), Edition Global Advertising Lawyers Alliance (GALA), Gazette News August 2017
"Advertising Space Brokerage, Digital Ads and Transparency to the Benefit of the Advertiser: Whats New in France?" (co-author), Edition Global Advertising Lawyers Alliance (GALA), Gazette News May 2017
"E-sport/video Games Tournaments in France: Let's Play under a Specific Legal Framework!" (co-author), Edition Global Advertising Lawyers Alliance (GALA), Gazette News February 2017 
"Sweepstakes & Contests" (Chapter « France », co-author), Edition Global Advertising Lawyers Alliance (GALA) 2017
"Prohibition Of Advertising For Tobacco Products Vs. Freedom Of Speech: The French Supreme Court Decided To Have The First Prevail Over The Second" (co-author), Edition Global Advertising Lawyers Alliance (GALA), Gazette News July 2016
"Facebook vs. The French Data Protection Agency: A Formal Notice To Have Facebook Comply With The French Data Protection Act" (co-author), Edition Global Advertising Lawyers Alliance (GALA), Gazette News May 2016
"Cancellation Guide" (Chapter « France », co-author), International Trademark Association (INTA) 2016
"Advertising for alcoholic beverages still a hot topic in France (…Continued)", Edition Global Advertising Lawyers Alliance (GALA), Gazette News September 2015
"Advertising for alcoholic beverages: Still a hot topic in France", Edition Global Advertising Lawyers Alliance (GALA), Gazette News July 2015 
"Price reductions in France: What's new?", Edition Global Advertising Lawyers Alliance (GALA), Gazette News May 2015
"Advertising Law : a Global Legal Perspective" (Chapter « France », co-author), Edition Global Advertising Lawyers Alliance (GALA) 2015
"Commentaries on the Community Trade Mark Regulation and the Community Design Regulation in the English Language" (co-author), Edition C.H. Beck Hart Nomos 2015
"How to ensure the protection of young consumer in a new digital World ? A European perspective" (co-author), Edition Emerald Group Publishing Limited 2013
"Promotion Marketing and Advertising Book" (Chapter « France », co-author), Brand Activation Association (BAA) 2009
"Advertising to Children in France", International Journal of Advertising & Marketing to Children April-June 2004
"Trademark Law & the Internet", co-author INTA 1999-2000-2001-2003
"Einige Elemente der konzernrechtlichen Sonderregeln in Frankreich", Max Planck Institut Symposium 1990
"Doing Business in France" co-author Matthew Bender 1983
"La Protection des Actionnaires Externes dans les Groupes de Sociétés en France et en Allemagne", Ets. Bruylant 1976